Georgian writer / director / producer Salomé Jashi enjoyed considerable success and acclaim from audiences, festival juries and critics throughout 2021 with her second feature-length documentary, Taming the Garden. World-premiering at the Sundance Film Festival in January, the Swiss / German / Georgian co-production observes the transportation of colossal, living trees from Georgian villages to a private island owned by the country's richest man (and former Prime Minister) Bidzina Ivanishvili.

As we talk, it is almost exactly one year since Taming the Garden premiered at Sundance. Can you recall what expectations, if any, you had in advance of the film's debut?
When I learned that the film would be shown both at Sundance and in Berlinale's Forum it was a huge joy, because I knew that when a film starts with these two festivals it will have quite some circulation. It was a very exciting period, knowing that the film might go somewhere, but there were certain things that I did not expect, such as the release in the UK, and the nomination for the European Film Awards.

Another major hit of last year's Berlinale was Georgian, in the main competition: Alexandre Koberidze's What Do We See When We Look at the Sky? And one of the international success-stories of 2020 was Dea Kulumbegashvili's Beginning. Considering these and other international successes, does it feel like Georgian cinema is in the middle of a "moment" right now?
I do feel that, and not only when I go to international festivals but even in Georgia, I do feel like I'm part of a community. What I really enjoy about the community here is that it gathers together, it's very supportive.

When I started to make documentaries very few films had been made in Georgia. It was really the beginning of independent documentary filmmaking at the time, so it's enjoyable to watch how, before my eyes, this industry — especially documentary — has grown and flourished.

I'm happy and also proud to have been part of this development because, with my colleagues — when we first got out into the international industry — we also wanted to bring people from this industry to Georgia, we would organise workshops, pitching forums, and so on.



Taming the Garden is a co-production of Switzerland, Germany and Georgia. Could you speak about how such a film becomes an international co-production? Is it possible for Georgian films to be made and shown without this international involvement?
In a way, it is possible to make a film without a co-production but that would be an extremely low-budget film! I've in fact recently produced a film by a debutante filmmaker — which is also my debut as a producer for somebody else's film — and we raised money only in Georgia: Ketevan Kapanadze's How the Room Felt, which premiered in IDFA's International Competition in November.

It's a low-budget film, by a director who does the sound and filming by herself, a very "indie" film if I can say so.... "handmade" even. So it is possible, but it means we're not very well paid, we work with equipment that isn't very good...

But if you want to create a decent film which requires a lot of time, which requires a proper team at all levels of production and proper equipment, then it's not possible to do it without co-production. The annual budget for documentaries from the Georgian National Film Center, which is the only professional film funding body here, is equal to the budget of one low-budget film in Europe. But what I mostly very much enjoy in a co-production is the international team, which enables the project to benefit from the input of different countries.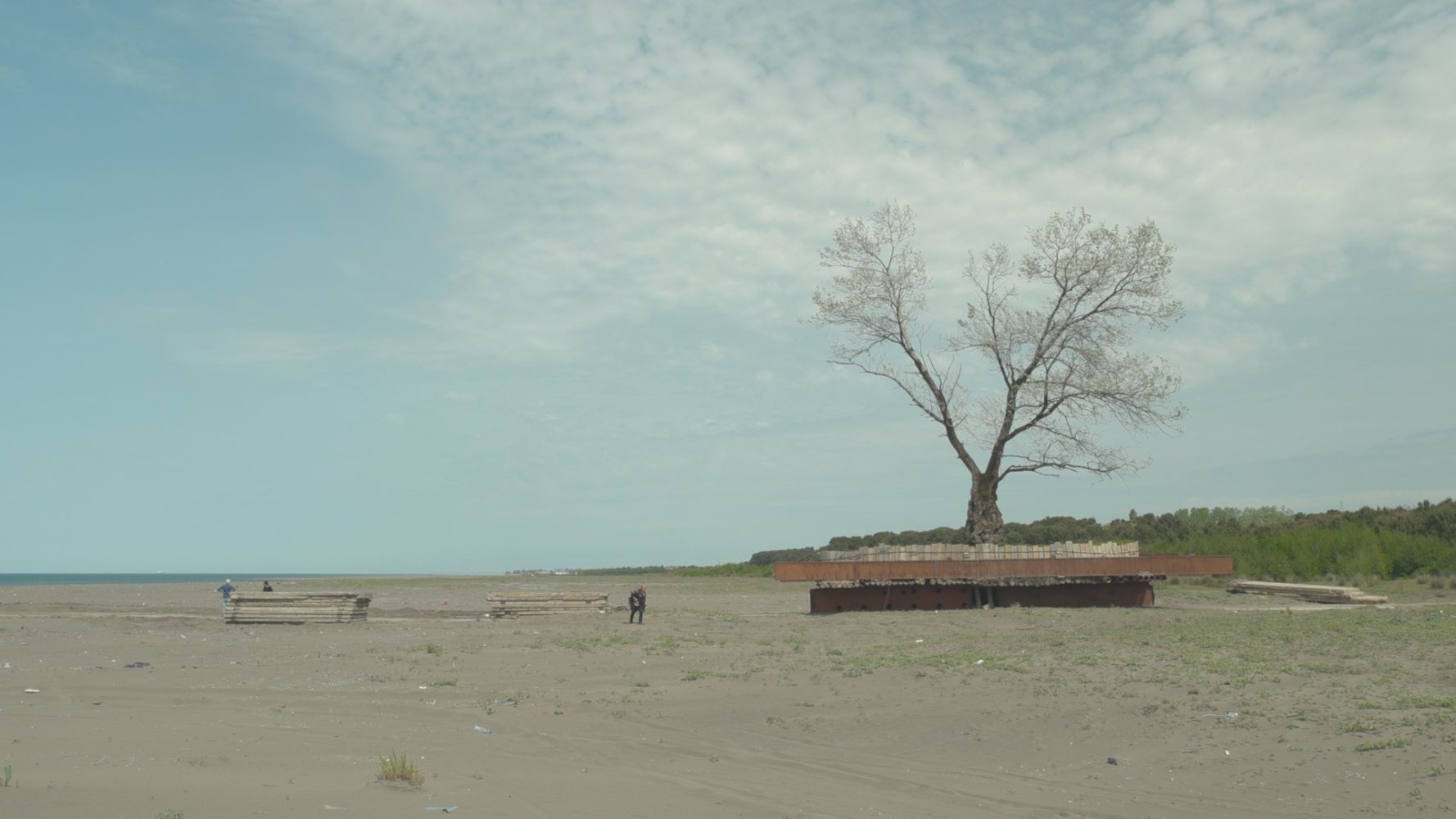 How did you go about getting Taming the Garden's budget from various companies? Do you enjoy that process or do you prefer leaving it to others?
No, I do the producing myself, the Georgian part. The way I find it comfortable to work is by trying to start the project, to film a little bit, and to raise the funding that's available in the country... and only then, with an already established film idea, and with some funding in the budget, do I go and search for producers. This gives me some kind of independence — and a say in the project.

In the case of Taming the Garden first I approached Erik Winker, the German producer from CORSO Film, whom I already knew. By then I'd filmed a little bit, but only very little; I had some money in place from the Georgian National Film Center. And Erik was very interested.

And then after that I went to pitch at Pitching du Réel in Nyon, and that's when I met the Swiss producer, Vadim Jendreyko — which proved crucial. By that time I'd received funding from the Netherlands — IDFA's Bertha Fund — and the Swiss company also provided an incentive, some cash to help the filming.

In the beginning, you don't need much money, you need something to start with. Especially if you're passionate about the project — you don't wait until you get all the money in place and then say "OK, since I'm paid well, now I will film!"

In your experience, when you present projects at such pitchings and to funding bodies, are there people trying to influence the project?
With funding bodies I've never had a case where somebody would want to influence the way I make films, but that's also the conscious decision that we take. And to give you an example, with the German producer we had a choice to apply either to one fund or the other: one fund would offer less money and less editorial control, and the other fund would offer more money but more editorial control. So we very consciously went for less money and no editorial control.

The Toronto-based sales-agent Syndicado came on board, why did you choose to work with them?
I'd worked with Syndicado on my previous film The Dazzling Light of Sunset [2016] — Aleksandar Govedarica, in charge of film sales, took it before the Nyon premiere at Visions du Réel. We worked together and it was a really nice collaboration.

When you work with a sales agent it's not only how many festivals the film goes to or where they sell, but it's also very much about personal, human relations, responsiveness and collaboration.


The film is obviously ideally seen in a cinema, with the best sound and image. But are you now in a position where you want as many people to see it as possible, at home if necessary? It's now on MUBI in many countries...
I have an ambivalent feeling. On the one hand it's been a year, the film is out in cinemas, almost wherever it can be. It's been to over 100 festivals already... Yes, I think it's time for as many people to see it as possible.

But for me the sad part is that the film has not been released in Georgia, it's not going to cinemas yet and I'm not sure if it will to go there at all, we only have one commercial cinema — no independent cinemas — and they're reluctant because the film has a political aspect here in this country: the main, unseen, character, Ivanishvili, is the wealthiest and the most influential person here, a former Prime Minister and founder of the ruling political party...

The film was shown at three festivals here in Georgia, and we had a project taking the film from town to town in the regions. Some people saw it online because at one point a pirated link was circulating... But of course it's my dream, especially after the international success of the film, to release Taming the Garden in Georgian cinemas.

Do you have your next project in mind already?
It has been quite tough to move on to something else. I know some directors can drop the film they've finished and move on to the next one straight away but for me this has been quite a challenge.
And actually I feel that I want to turn to something else right now — as I mentioned earlier, in Georgia we do not have an independent cinema, so I want to start the programming of independent films here and bring the kinds of films that I make to the Georgian audiences.

In terms of retaining creative independence, how important are institutions that support independent documentary cinema around the world, such as the Institute of Documentary Film and others. They may not directly give support but can provide structures...
Absolutely, the first workshop that I attended with my project Bakhmaro [2011], was Ex Oriente Film which is run by the Institute of Documentary Film. For me it was an absolutely crucial experience, because that's when I learned about the international industry. Before that I'd studied filmmaking at Royal Holloway, University of London. But in school nobody really teaches you how the industry works, they teach you filmmaking to a certain degree, but filmmaking doesn't exist without the production and industry parts.


The people that I met at Ex Oriente Film — the participants but especially the tutors of course — they were doing a fantastic job supporting filmmakers from Eastern Europe, for whom this big European industry was still something quite foreign and unknown.

Have you, as a Georgian, felt welcomed by the film industries in the EU part of Europe, the bigger countries like France and Germany?
That's a really great question. It's not easy to generalise, because the industry consists of so many individuals. I've felt as somebody very very equal, and I have also felt, especially in the early part of my career, also as being somebody who is not coming from a strong industry background, so to say...

At least now I do feel "equal" — even if I definitely don't feel equal financially — and that usually puts me, as a producer, in a bit of a vulnerable position.

Are you getting involved with workshops as a mentor, keen to work with next generations in Georgia?
Yes, I tutor, I'm sometimes invited for workshops including Ex Oriente Film. Just recently it was B2B Docs in Georgia, a Swedish initiative for filmmakers from Eastern Europe. I've tutored at Below Zero [Tromsø, Norway], Baltic Sea Forum [Riga, Latvia], at DocEdge [Kolkata, India], and an initiative in Kathmandu [Nepal] and others.

I enjoy doing it very much, actually, because I enjoy hearing and seeing how filmmakers are developing their projects. Because even when I do something myself, I need somebody to speak to, to interact, I need this dialogue. Through the dialogue you start to understand yourself.

So during a workshop it's not that you tell others what to do, but rather through speaking with you they understand how they can develop the film better. I'm happy to contribute in this dialogue, and I enjoy it.

Do you intend to continue work within the documentary format, and to continue telling stories from Georgia?
Yes, I plan to continue making documentaries and I plan to continue making them in Georgia. Because this is the place I know very well, this is the place where I speak the language — not just the verbal language but also the cultural language, the place where I feel I am eligible to tell stories from.

Maybe I could try to make films somewhere else, but that would be a much bigger challenge for me... maybe a positive one as well. Here, I feel I have the right to make films, to make documentaries. When you make a film about something, in a way it's an ethical or a moral thing... like you need to have the right to do it. Or rather, be the right person to tell it, or, more exactly be in the right state to do it. Still, I don't want to sound didactic, which I'm not. And maybe "right" is too strong a word. Still, I think it's right to make films about something that moves you, disturbs you, affects you, shakes you, that you feel very connected to. Right now I feel very connected to how things are in my country.

Would you say that this is a good time to be making documentaries? The last couple of years has been tough, with the pandemic, lockdowns and so on...
There's always time to make documentaries, there are always moments that can be inspiring and interesting and representative of something bigger. There is always possibility and time for it.

Funding has been reduced already — I know that TV stations are taking fewer and fewer films, independent films — and it would be a pity if it continued to decline even more... because filmmaking as an art-form is a very important representation of the world around us: one that makes us think, one that evokes ideas and thoughts.

Neil Young (b. Sunderland, UK 1971) is a British journalist, film-festival curator/consultant and filmmaker based in Vienna. He reviews regularly for Screen International / Screen Daily and works for several film-festivals including the Viennale, Vienna Shorts and Kortfilmfestivalen (Grimstad, Norway.) His feature-length directorial debut Rihaction premiered in a competitive section at Diagonale, Graz in 2019.

The interview is part of series of talks with European documentary filmmakers marking 20 years of the Institute of Documentary Film in Prague.
back to articles