With his short movie Sounds of Weariness (2021), Taymour Boulos won an Award for the Best First Film at this year's Doclisboa and the Silver Eye Award for Best Short Documentary in the East Silver Market at the 25th Ji.hlava International Documentary Film Festival. The movie follows a Lebanese young man living in Brussels who finds rest in a laundromat while having one of his recurrent anxiety attacks.

Taymour Boulos is a Lebanese filmmaker based in Beirut. He holds a Bachelor's degree in Film Directing from the Lebanese Academy of Fine Arts and he just graduated from the DocNomads Joint Master's program, which has taken him throughout Europe making documentary films in Portugal, Hungary, and Belgium. His short films include It's Just Another Dragon (2021), Anything Can Happen Now (2020), A package and a crane (2020), and his first medium-length film is Encounters on An uncertain Spring (2021).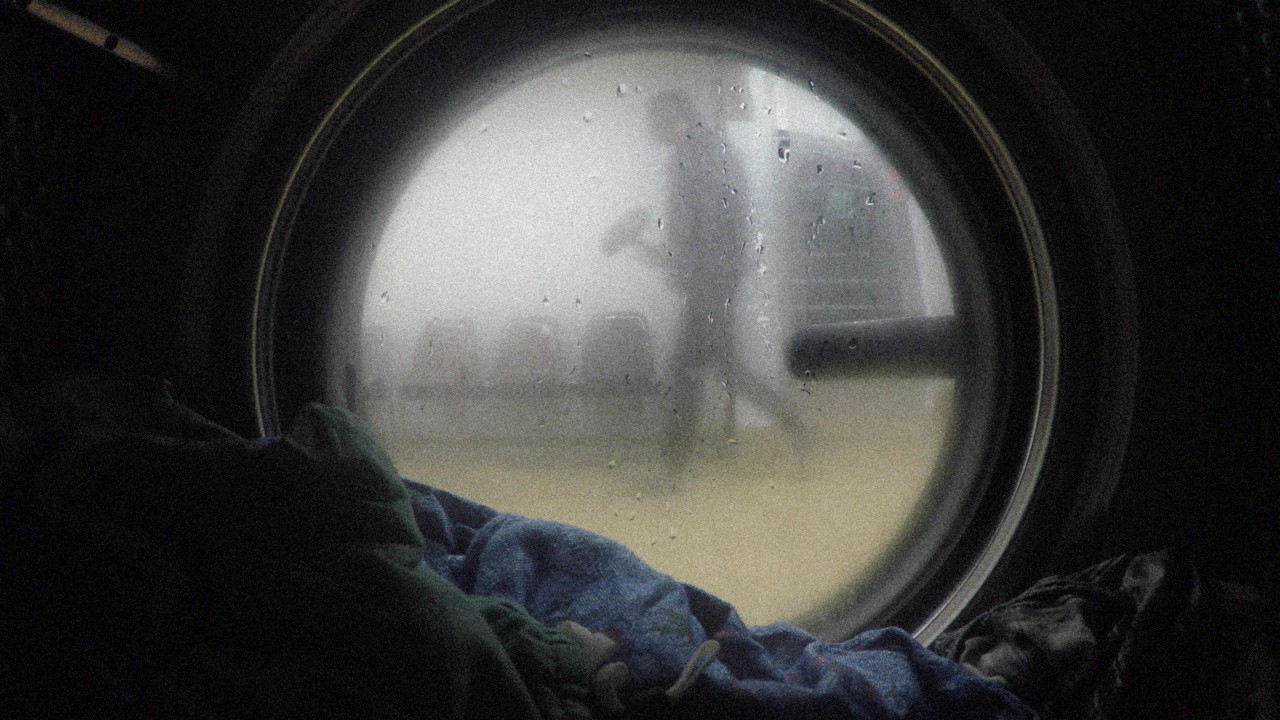 The movie and its screenings

Congratulations! How does it feel to have your documentary premiered at Doclisboa and screened at Ji.hlava?
It feels incredible because the film was made a while ago and I did not necessarily expect so much activity for it. And since it all happened on the same weekend, I was felt with joy and it was very rewarding.

Were you worried that the screenings could go online? What is your feeling about online screenings of your work?
It is a very particular feeling. Since I am a very young filmmaker, I have never even experienced a live screening of one of my films yet, but my first on-site screening should be in Italy this month, where Sounds of Weariness has been selected to Festival dei Popoli. But online definitely feels different than on-site screenings.

If those screenings in Doclisboa and Ji.hlava were online, I would not mind, but I would say that automatically the whole sense of premiere takes a different feeling. Because in the end, we make (and now it will sound a bit silly, but it's true) films at first for on-site screening. There is nothing as rewarding as being in a room filled with people watching it live with you. So online is a bit less exciting, but it has its advantages as well because as long as films aren't geo-blocked, it is possible to watch them even without being on-site.

How did the idea to make Sounds of Weariness originate?
The film was made in the framework of university exercise during the DocNomads program, which is a traveling program and one of the stops was Brussels. And it was made in Brussels that was in a complete lockdown. I arrived, we had like one month of normal life, and then it was directly full lockdown. And we were asked to direct an exercise film that would be based on a sound. The idea was that the film would originate in a sound that is exciting for us, that speaks for us somehow. I started walking around with my microphone and then I came to this place, and I was a bit cold and felt like taking a break in this laundromat. It was also a phase in which I felt many emotions and a lot of stress.

Somehow I ended up talking to some people in the laundromat and that's how it originated – through conversations. I felt a lot of comfort in these encounters, because of the lockdown it felt nice to meet people. The film originated from this little coincidence which was a film made for university exercise and landing in a laundromat against all odds with a microphone.

The movie is an observation with no classic talking heads. We hear people talking about their anxiety experiences without seeing them. Why did you decide not to show their faces? And were those people just random visitors or did you look them up before?
There are different reasons behind it. One of them is that the film was made in a particular way – I build the sound script first and the image came very late in the process when I already had my whole sound script with all my sound design pretty much done. One of the reasons behind that is that I found freedom in associating sounds and images.

It also gives you a lot of freedom because people tend to be more comfortable when you ask them to record their voices rather than pointing the camera at their faces and they opened up more. Ethically, I also felt more comfortable that way because sometimes I would ask people questions and there would be other people in the background. I was happy not to display people's faces, it felt more respectful for a film made in a public space.

Was it difficult to gain their trust when they talked about something that personal?
Yes, it was but I wasn't necessarily trying to push things too hard and I think it's present in the film in the sense I would ask people a question and I would see and some people would just stop at something, I wouldn't say superficial, but rather they said one thing that could be interesting to add to the film and I didn't necessarily push it more. And for the other people, I would sense that they would be ready to enter in the conversation and I would follow up and try to push it a bit further, but it all came very naturally. I did not have to push anyone to say anything, it came very commendably I would say.

Did you watch other films related to mental health or anxiety? Is there anything that inspired you?
For this film I wasn't necessarily inspired by other films related to this topic, I was more formally interested in a certain type of films. For instance Ben Rivers films. I had the opportunity to talk to him and he is the person who hinted at a series of photographs that was taken by Steven Pippin. He took photographs of inside washing machines. These pictures are very old, it was an experimental project. But I was inspired by it and he gave me this idea because I reached a moment where I was quite lost. I had this whole soundscape and I did not know where to put my camera. And the idea of putting the camera inside of the washing machine came from Ben Rivers whose films also inspired me in the sense of dissociation between sound and images.












Steven Pippin, Walking Naked, 1997, SFMOMA Archive

Did you work with a rough script or did you just set out on your journey with the microphone and camera?
The way the process happened was that I would go and record something and then I would come back home and listen to the sounds I have recorded and I would try to write down sentences I found interesting and then according to those things that people would tell me I would react and write down other new questions that I would ask another time. It was kind of a ping pong between what people would tell me and then I would try to conceive questions to narrow down the core of the film.

The awards

Your film has won the Doclisboa'21 Award for Best First Film and the Silver Eye Award for Best Short Documentary in the East Silver Market at the 25th Ji.hlava International Documentary Film Festival. How do you feel about those awards in general?
It's very encouraging. I hadn't received any awards before, these were my first awards and actually, I received them on the same day, it was a very exciting weekend and of course, awards are encouraging in a way they encourage you to keep on producing, as simply put as that. And money is also something not to be dismissed. It has its importance. A little amount of money can offer freedom. I am currently living in Lebanon where our currency has been devalued by more than 90% in the past year and Euros are worth a lot right now. These kinds of awards, now that I am back here, can offer you support and encourage you to have some time to produce new films. It's very important in the end, very encouraging.


Yes, for example with the Silver Eye Award comes a money prize and a year-long festival service of East Silver Caravan along. How do you think this will help you?
It might allow the film to keep on its journey and perhaps to be seen in other places of the world. For me, it's absolutely crazy again, because it's the first film that has this opportunity to maybe move around a bit and travel.

Mental health

The Silver Eye jury explained that they awarded your documentary also because it reminds us of the importance of having public spaces, which serve as a meeting hub for human interaction where you can share your experience and ideas with others. Did you have some other places in mind?
I find all public spaces interesting in a way, perhaps more specifically public spaces that are crossing points where people come and go and where there is an opportunity to make encounters. Like train stations, airports, supermarkets or bus stops. In Lebanon, there is unfortunately a lack of these spaces, which I believe is very unhealthy for us. The biggest public garden in Beirut was closed for years after the civil war; the excuse being that people might fight there. And preventing people who used to fight to ever find themselves in the same space does not sound like a very good idea. I used to work a bit for the promotion of public spaces in Lebanon, when I was a teenager. These places have never left me indifferent.

In the film you say, that people who feel anxious should focus on the present moment – what they hear, see or smell. Is this how you cope with anxiety? Is the film close to your personal life?
I think it is something really common today, people are very turned towards these things – mindfulness and stuff like that. I think that words are not always easy to focus on, so as the film said, I try to focus on the sound. One thing I do since the beginning of lockdown is a certain type of meditation in which I focus on sounds. The whole idea is to focus on a single sound and whenever you feel like thoughts are coming to the surface, you try to tune them down and focus on the sound more.

What's the most calming sound for you?
I actually really like the sound of rain on the windows, it's funny because it is something one of the people I met during this filming process has said to me. He said "le son de la pluie" (the sound of rain) and he was talking about these bent glass windows. For me, it is the sound of the rain on a window, on a glass, when you are in the car or other closed environment.

Beirut and education

You joined us all the way from Beirut. What is the situation there now? More than a year after the most devastating explosion of the 21st century, there have been recent articles in the world media about the shortages of electricity, food, and other essentials. Do you see any sign that the situation is improving?
No to be honest. We reached a point in Lebanon when we are not surprised when things are getting worse. It is difficult to have any perspective at this time. I left Lebanon exactly when there were popular movements there two years ago and when the country started a serious decline. And then I came back here after two years of living abroad and it feels like a different country. On a personal scale, many of my friends have left and people are like: "What are you doing there? Why do you even bother going back?" One of the reasons I am back except it is where I belong somehow and I have a Lebanese passport is, that there are films to be made. Not in a way to use what is happening but more in the sense that there is movement and it's a platform to make documentaries, there are things to be said and to be filmed.

How do you see the current situation in the documentary industry and filmmaking in general in Lebanon?
It's very paradoxical because besides the crisis, we have many talented filmmakers and there has been an emerging industry in Lebanon for the past few years, I would say. There are extremely beautiful documentary projects that are being made. I am now thinking of Danielle Davie and Mohamed Sabbah, two former teachers of mine, who are finalizing a very essential documentary called Embodied Chorus. It raises a subject that hasn't been raised in the region ever before in a feature film, I believe. There are beautiful films that are being made here in Lebanon, despite everything.

Was Sounds of Weariness inspired by the events in Beirut? Do you feel people are more anxious with everything happening to your country?
The film itself was not necessarily related to that, but there is anxiety for sure in the country. People are absolutely insecure, there is no safety net. It feels like there is no state and of course, we literally don't know what tomorrow will be made of so there is anxiety. The film does not talk about this anxiety, but it does talk about something that is very Lebanese which is this feeling of living between the West and East because Lebanon is a country in which people do feel this intersection. When I was living in Brussels, I lived in a multi-ethnic and multi-cultural neighborhood and I had a chance to speak Arabic and French and people were also speaking Arabic and French so I met people in the framework of this film who also felt like being between the East and the West, or say between the third world and the western world.

You studied at the Lebanese Academy of Fine Arts and you also have a joint master's degree in Documentary Filmmaking from DocNomads, which is a two-year program where students from all around the world follow a mobility track from Lisbon to Brussels via Budapest. Why have you decided to study there and how was your experience?
It is hard to say no to such a program when I had a chance to be selected with the scholarship. Once you have a scholarship for this program, it feels like a huge gift, it feels almost too good to be true! I mean traveling for two years to make films with people from all around the world. I have met incredible life-changing friends during those years and it is all for free! And also it makes sense to travel in a documentary program, it makes sense to encounter different realities. It is a program in which you can make a lot of films. It is probably the best way to become a filmmaker. I think a school that allows you to make films and gives you the possibilities is very good. I think it can also be good to learn documentary craft in a place that is not your own home. It can also be good to learn it at home but traveling is a very stimulating way to make movies.

How the program helped you develop Sounds of Weariness?
I've got the chance to be mentored by Christina Stuhlberger and although the mentorship happened mainly online, it was a very important part of DocNomads. Also, the fact that I got to discuss with other people from my class or with teachers, I learned many precious things from them. That's the biggest trend in this program, it is very enriching.

In terms of distribution, every semester there are three films chosen to be labeled, and my film got this label. They get a little financial push and it is also one of the things that has encouraged me to send it a bit and amongst the places I sent it to Ji.hlava and the East Silver Market.

In December 2019, you shot a film named Anything Can Happen Now where Tania Saleh and her son Tarek are discussing what it means to be Lebanese. What does it mean to you?
It means having to make choices, having to decide whether to stay or to leave or to live between another country and Lebanon. It also means to be a bit heartbroken. It is sad to put it that way, but because after any choice you make comes sorrow, because when you leave, you know you have left someone in Lebanon. It is very hard to take your whole family to some foreign country like Canada or something. These kinds of things are not offered to everyone. When I made this film, Tarek – who is also my friend – was about to leave the country and I made this film because I was already projecting myself leaving. It is the only film in DocNomads I didn't make in the first person, but I could also project myself through Tarek.

Are you also planning to leave or are you working on anything now in Lebanon?
I'm not planning to leave right now. I have not been here for that much time, but when I arrived, I had a chance to collaborate with two friends, a dancer and a musician, and to make a short dance film with the support of the "Maqamat" organization and UNESCO. I will hopefully end up working on something else soon. I've got some ideas already, but they are still preliminary.
back to articles