Czech producer and director Radovan Síbrt is the co-founder of the production company PINK, which focuses on television projects and commercial, and auteur projects as well. He has produced or co-produced award-winning films such as Touch Me Not, When the War Comes and Cinema, Mon Amour, which have toured major international film festivals. Besides serving as a producer, Síbrt has directed documentary portrait about the Czech band Tap Tap, Two Roads, and serves as a showrunner on television shows such as Masterchef Czech Republic or Undercover Boss Slovakia.

We talked to Radovan Síbrt, who toggles between the small screen, the big screen and site-specific audiovision for museums and galleries, about the relationship between commercial and auteur production, the impact of the pandemic on the audiovisual industry, the roles of producer, director and showrunner, the position of streamers in relation to the independent documentary filmmaking, and the ethical boundaries in documentary filmmaking or adapting true events for a film.

What is the position of documentary projects in PINK's portfolio?
Originally, we had the idea that we will build a large slate of documentaries, as it is usual among producers in countries to the west from us. However, we had soon faced the reality. Unlike the developed world, we still lack funding opportunities. The only body that systematically supports film production that has an international reach and is not targeted solely at the Czech market, is the Czech Film Fund.

HBO Europe also produces a small number of documentaries to a limited degree, and then there is only the public broadcaster Czech Television, but they lack clear vision. The relationship of the management to the industry is problematic, and when they do support some projects, they are mostly portraits of local personalities. So, we had to finance the long phases of development and production from our own resources, and that is unsustainable. And that´s despite the fact that we have some finances thanks to our commercial projects.

As a company, we are making living by delivering primetime entertainment for commercial televisions, such as Masterchef Czech Republic, Undercover Boss Slovakia, a culinary road show Duel on the Plate, but also by making commercials and audiovisual exhibitions for Czech museums.

That´s why documentary production is becoming a fringe matter for us, although it is still very important mentally. We need to be more selective and critical. And sometimes we regret that we simply won't produce a film because we don't have the capacity or the money for it, since we have to make a living elsewhere.



Docureality and docutainment still count as a documentary work.
If you look at it this way, then we are making documentaries for a living. But when I talk about documentaries, I'm talking more about auteur documentary projects.

What is your relationship to the docureality format?
Very pragmatic.

Firstly, it provides us and our production company with a livelihood. Secondly, it provides livelihood to a number of great directors, especially documentary filmmakers, with whom we are working on these formats. And they then have the opportunity to pursue their own original work for which they are paid a pittance and could not survive on it.

At the same time, we try to "cultivate" the formats within the boundaries. We always try to look for some significant message in them, or to open up topics that are deemed taboo or controversial in the Czech society.

For example, I was the showrunner for the Czech version of the British format One Born Every Minute. And the topic of childbirth is a divisive issue in the Czech society. Until recently, pregnancy was perceived (and this opinion still prevails) as a disease and childbirth as a procedure that needs to be "done" as quickly as possible.

Unsurprisingly, this opinion was and is shared by male obstetricians. A large proportion of births were operative - by caesarean section - at the request of mothers who were motivated to do so by their doctors. And we decided that we would try to emphasize in every episode that childbirth is a natural process and that it does not need be seen as a problem to be eliminated.

And given that the series was running in the prime time, hopefully we left some impact, even if it was the slightest. But if the debate had been taken into the prime time on the public television, it would, of course, have been more substantial. But that is not what is happening.

So there is a space for auteur input on commercial projects?
You have to find that space. And there's always some, even if it's limited. But the pressure from the commissioning party is not on what you say, but on how you say it. The form is important. You have adopt a narrative approach to capture the viewer from the first second so that he or she won´t switch the channel.

Unfortunately, that's the problem of commercial linear televisions which are making living from advertising. I can't do anything about that. But I can insert themes that interest me into this formally mainstream narrative.

In Masterchef, I decided to organize a wedding for a former contestant, a designer who is Roma, gay and Slovak. Czech society is quite xenophobic, Romas are the target of racist attacks, and the government parties are officially against same-sex marriage.

And no one from the board of TV Nova has said a word. They didn't address whether we scare the mainstream viewer who probably doesn't share our beliefs. They were only interested how is the episode done, whether it has the parameters of a mainstream narrative. And yes, maybe the fact that they're foreigners who come from the countries where this is already a settled issue, plays a role.

But the show or its episodes need to hit some ratings.
Of course. You get used to the fact that no one from commercial television tells you how great an episode it was. They write to you when you get high ratings. Often, you'll just receive a text message with a number - a percentage of viewers and an emoji. You have to learn to live with that.
Don't you feel limited by the condition of mass entertainment?
I can argue whether television should live on advertising, whether we (as a society, as a state) should have sold limited airtime to commercial television so that they could use it and we could not shape the direction of this content in any way. But that's the way it is. I can't do anything about it, and I take it as a fact. And as a part of the game I'm knowingly stepping into.

But what I do see as a problem is that there is more and more emphasis on ratings at public television, where only the quality and relevance of the content should be the deciding factor, even at the cost of less mass audience appeal. So, I don't see that as part of the brief. But of course, I couldn't, I wouldn't and I am not trying to produce an original auteur film in that environment.

And to be honest, sometimes I enjoy the pressure for the mass appeal. We're all a bit vain and we want the audience to see our stuff. And documentary films don't really bring this kind of satisfaction.

Your portfolio of projects is quite diversified - documentaries, TV shows, feature films, international co-productions. Was this part of PINK's production strategy from the beginning or did circumstances force you into such diversified portfolio?
We knew from the beginning that we wanted to do interesting, creative things. But we also wanted to make a decent living. And we had to adapt to that. So we started producing commercials, and when we stabilized the company, we started doing documentary films, which I also studied, and I consider it essential because it can critically define what's going on around us.

And from that we progressed to fiction films. And then Nova Television called us. The new management of the owner of TV Nova was getting rid of the strange clientelist ties between the television and the producers, and so we got our chance. Based on our previous work, producer Radka Váchalová noticed us. It was important for her that we were doing auteur films and that they were successful.

The displays in the museums were also connected to our previous work. We often worked on video clips, commercials and short films with the great set designer Iva Němcová (1980-2015) and she recommended us for the tender for the exhibition in the castle in Žďár nad Sázavou. We won the tender and the realization attracted attention. We won some prizes and suddenly other museums started to contact us, whose representatives came to Žďár to "learn" what a modern museum exhibition could look like.

So these are often accidents, but they are based on the fact that we do everything with dedication, that we enjoy our work, and that we have a number of successful projects behind us. And then the commercial work allows us to be much more uncompromising with our auteur projects.



Like, for example, When the War Comes, when a Czech director made a film in Slovakia?
It wasn't about whether the Czech was shooting in Slovakia. Although someone commented on that here and there. This was about the fact that we had come across a topic that was crucial. And which many people didn't see as crucial at that moment.

The director Jan Gebert had heard about paramilitary units, a kind of militia, which had a critical disagreement with democratic European institutions and leaned towards Russia, towards totalitarian thinking, which they were practicing in these units. But their goal was to enter into politics and bring this thinking into the whole society.

When we came up with the idea and started presenting it at various pitching forums, some people accused us of dealing with a marginal topic that had nothing to do with the world. That it was just a local problem and we were giving this small group of people a space.

But throughout the development, it transpired that we touched on what could be called the undercurrents of the dark side. And not only in Eastern Europe. Once the election of Donald Trump as President of the US happened and the withdrawal of the UK from the EU materialized, it became clear that these are forces that are emerging throughout the so-called Western world.

Touch Me Not and When the War Comes are radically different projects, both thematically and formally. How did you board to the Romanian co-production?
They may be radically different films, but they have one thing in common. They both provoke a discussion. They make a powerful statement, you can´t watch either one and say you don't care about the film and the topic. You have to take a stand. You can disagree, you can hate the films, but they make you think. And that's a nice moment.

Were you scouting film markets or pitching forums when you came across Touch Me Not?
A few years ago, we participated in the Ex Oriente Film programme, where we were preparing a completely different film. There we met the Romanian producer Monica Lazurean-Gorgan, who then came to the Romanian premiere of another of our films years later.

There we started talking about the films we were working on and she asked if we would be interested in a film that dealt with intimacy and the perception of otherness. When we saw a kind of teaser, it was clear that we wanted to do something like that.



So it was again a chain of coincidences. Although you're always going somewhere, so it's not pure coincidence because you're going towards them. Monica had pitched it to other producers before us, but they didn't feel it was something they wanted to pursue. And we wanted. The triumph of Touch Me Not at the Berlinale and the successful festival touring of When the War Comes paradoxically slowed us down a bit.

Since that moment, we've been travelling festivals a lot, looking for opportunities to participate, but we were a bit exhausted, we needed to "stop" and tell ourselves what we really wanted to do. We had a lot of offers at that time and we started to get distracted. Plus, ironically, we had lost the support of the Czech Film Fund, so we were unsuccessful several times in a row in applying for funding. So we limited the number of projects we would work on so that we could carefully control and shape them.

We decided to focus our energy more on our own projects, where we are there from the very beginning and have control over them. So now we are co-producing only one feature film by Adina Pintilie, Death and the Maiden, and one short film by emerging directorial talent Lun Sevnik, The Tourist. The rest are our own projects, or films over which we have full producer control.

Historically, the Czech Republic and Slovakia have been close, but the current young generation of Czech producers has gone global outside the traditional territory of Central and Eastern Europe. Why do you stay in this space?
We always try to base ourselves on the need of the film. We don't want to do co-productions with exotic countries just because it looks good. Each film demands how to build the co-production relationships though its topic. But you can't say that we are staying solely in the Central European territory.

We were developing a film that was going to be shot in Iran. When the War Comes was a co-production with Croatia, because the subject matter had a reflection in their space, plus the protagonists were planning to set up more paramilitary units and Croatia was one of the countries they were planning to go.

Here, perhaps surprisingly, we didn't have a Slovak co-producer, even though filming took place in Slovakia. In the early stages of development and shooting, we were concerned that information about the film would not leaked into the public and thus reach the representatives of these units.

We are currently producing, with the support of the Czech Film Fund, a new film by Greta Stocklassa, which is a kind of intimate dialogue between the director and Hans Blix. He is a former Swedish diplomat who was in charge of the UN commission searching for weapons of mass destruction in Iraq under Saddam Hussein.

So of course, we started by looking for co-producers in Sweden (Sisyfos Film). And subsequently we were approached by German producers from Corsofilm that they were interested in the topic. And we were also joined by the Canadian distributor Syndicado, who again felt the potential of the topic on the American continent. So you can't say that we stay only in the Central European region, we always start from the "DNA" of that particular film.

Moreover, we are well aware that the future of auteur film, at least in the European context, lies in co-productions. This cannot be avoided.

You say you don't systematically scout forums and film markets. What is your relationship to these institutions and platforms?
I guess I would sum it up with the word ambiguous. On the one hand, these forums are very important, especially in the early stages of a producer's and director's career, because you form relationships there that you can further develop. So without film forums, we wouldn't have gotten very far in auteur filmmaking. Without them, films couldn't be financed.

But at the same time, there is a certain kind of normalization, a unification of what films should look like. The forums themselves create a sieve. They decide what gets in, they are picking the projects. And although they try to have some variety, they have a certain normative aspect about them.

There's no way to avoid that. You find out very soon who "expects" what topic, what is "trendy". And because the festival "merry-go-round" is relatively limited, you keep running into the same circle of people, so of course it has an impact. You start, if you're not strong enough, be calculative.

Another normative moment is the people who comment on your films at different stages of development on the forums. And they are also pursuing a certain purpose. Often these are people who work for various TV stations and fill so-called slots that have a clearly articulated thematic focus. Whether it's a music film, or whether it's a film with a social theme. And you have to fit into the category. And they also have some idea of what the film should look like.

We don't even notice these formative things anymore, yet they are fundamentally limiting and have an impact on our thinking. Imagine if, as a writer, your publisher told you that your book should be either 100 or 200 pages long. And that the book must be 20 by 15 centimeters. Nothing in between. And the argument would be that he has library boards cut that way. You'd think he was crazy.

And yet, in the TV world, those so-called slots not only have thematic limitations, they have a clearly defined length. It can vary somehow, depending on the particular TV station, but generally it's 55 minutes for a so-called long documentary, 25 minutes for a so-called short documentary. And we accept that as a given, and we don't dispute it. Yet it must impact our thinking somehow.


If I look at the history of the East Doc Platform, you've been there quite often.
Just because you're critical of something doesn't mean it's a bad thing. It's just always important to name those problematic moments, point them out and try to do something about them. Often there are voices saying that some institution, some activity is "not working" and therefore should be abolished.

If the idea is good in its essence, it is better that we try to rethink it, to transform it, and not to reject it outright. So while I am critical of various aspects of these forums, but not only them, that doesn't mean I don't recognize their benefit and importance.

Where did your participation in the East Doc Platform take you?
It's a kind of gateway. Or maybe it's more like a net. You need to start somewhere, somehow step into the world of documentary film. And your counterpart, that is, potential people interested in the films you make, in turn need a place to help them get their bearings.

So if you want to make films that communicate internationally, you have to go through some kind of gateway like that. And if you're interested in co-producing films from Central and Eastern Europe, then you need someone to help you find the direction, to help you navigate an environment that you're not familiar with. So it's ultimately a kind of matchmaking service. A poor but promising suitor from Eastern Europe is looking for a bride from Western Europe who has a dowry. Or vice versa, to balance it out.

But then it's up to you how you work, how you build your name, your credit, because you don't really have anything else. Everybody's just looking at what you've done and how you've done it. And that's a nice difference from the Czech context, where it's more about who you're friends with, who you're related to, who you went to school with, or some side financial interests.



As you mentioned, you also do director and showrunner work when you produce. How do you juggle these roles and how do you choose your projects?
I work as a director on an exceptional basis. These positions are hard to combine. The films that I direct then suffer from my producing duties because I will always put other directors' films first, since I promised them that I would take care of their films. I tried that on Two Roads.

That film was many years in the making and one of the reasons was that we were finishing Touch Me Not and When the War Comes in between. And other films. And here this film that I am directing was on the back burner and I kept putting it off.

The position of showrunner is a TV thing - you're often in charge of dozens of episodes of some format. It's impossible to have each episode directed separately by a different director, and it's impossible to have it done by a single person. So you're above the individual directors, you have a decisive say in scripting, in shooting, in post-production. You're also above the producers, so you have unlimited powers, but also the total responsibility.


And it also brings a lot of problems because you can't translate that approach into an auteur filmmaking. And sometimes I have a problem with the switching between roles. In the hierarchy of television production, I decide everything and then it´s me who answers to the TV management.

But in auteur production, it's a dialogue, a discussion, where you negotiate and think through a lot of things together - the director and the producer. And of course, sometimes I get carried away with it and then I act like a despot. It's interesting what working in a corporate environment brings out in you. Those dark forces that you've spent your whole life trying to control suddenly come out. Fortunately, I have colleagues who like to point that out to me.

You have already commented on commercial television, on public television, but you have not yet mentioned the streamers, which are currently having a major impact shaping the audiovisual industry.
For us, of course, competition is a welcomed. And streaming platforms bring competition into an environment where there was basically nothing like it. In the Czech Republic, there is the Czech Television, a public service medium, and then two linear TV stations that have been churning out low brow entertainment for years and have been unwilling to invest in anything more complicated. They didn't have to. Viewers watched, companies paid for advertising, so they had no reason to.

But they are gradually realizing that without investing into premium "content", they can't compete in the long run and they will gradually vanish. So the pressure from these powerful streamers triggers some reaction. But the question is what that reaction will be.

My guess is that it will just be "a content war", that it won't be about making more substantial films. So I think audiovisual production will be divided. There will still be films that are made with the support of film funds, with some participation of public media, where we will continue to look for international co-productions and then they will travel to festivals, if they manage to attract the professional public or have some distribution life in cinemas depending on the audience success - ideally both.

And then there will be "a content production" for various kinds of streamers to compete for viewers in an "online environment", and I am deliberately making the distinction between "films" and "content". And it's possible that something more substantial will be produced in such environment once in a while, but I think it's more likely that these two environments will exist parallelly.

And the pressure will have to be resisted to ensure that the money that has been earmarked for cinema doesn't completely spill over into the creation of this "content". And therefore into the hands of multinational corporations. And that pressure is there, of course. And it's quite strong.

We are currently negotiating with the Voyo platform to produce an eight-part series about the so-called Kuřim case under the title The Attachment Theory, which we are preparing together with Olmo Omerzu, Miro Šifra and Lucie Vaňková. And although it is a very friendly negotiation, we are running into financial possibilities, so even here, with the smaller streamers, I think that the future lies in co-productions and pooling money from several sources, otherwise we will continue to create cheap "content" that will not be competitive enough.

So how do you view streamers from the perspective of a documentary producer?
I don't want to sound too pessimistic, but I wouldn't expect too much change here. In our context, documentaries are rather endured in the audiovisual production. No big streamer is rushing here to invest a lot of money.

Netflix is now committed to investing in first series, but it's more of a light comedy genre, the local streamer Voyo supports the creation of true crime series, and if one of them wants to have some documentaries in their catalogue, they'll buy them ready-made for a few euros, but they definitely don't want to invest in them.

That leaves only HBO Europe, their local output is some of the best that has been made here. But it's a sporadic effort, and too limited to produce anything substantial in the overall market. But it strikes me as a smart approach.

Documentaries may not bring you money in the short term, but they create a sense of an exclusive programme, which you then promote through success at international festivals, thus attracting a certain type of audience. And in the long run, it certainly has an effect. You just have to have someone dedicated to it.

But Caught in the Net managed to become a blockbuster documentary in the domestic box-office.
Every now and then, someone breaks off, of course. But it's not a rule. It's the exception that proves the rule. And I don't want to be overly critical, and I don't want to detract from the importance of this film, because it certainly is important, but in this case, the audience got rather carried away with the tabloid nature of the whole project. In my opinion, there have been better films made here and no one went to see them in theatres.

Going back to your films, you said you were ahead of the curve with When the War Comes. Do you think this also applies to Two Roads and the current attention given to inclusivity?
The topic of inclusion is not new. It may seem new in our context, where we are dealing with everything some 20 years later than in the developed world. If anyone was ahead of the curve, it was more likely Šimon Ornest, the bandleader and founder of The Tap Tap, the band the film is about.

In this context, he is the bearer of the vision that people with various disabilities should be an equal and full part of society and not just tolerated outcasts somewhere on the fringes. And I just picked up on his idea, which has a relatively extreme form and is often criticized.

We started talking about the film a long time ago. I think it's been almost 15 years. And that was when we were making The Boss Driver video. And then when we finished the music video, Šimon took it and brought it to a domestic commercial music television station and they were so excited. The program director said it was "a great song, a great video, but the only problem are the disabled ones. Don't put them in next time because no one from our audience wants to watch them". And indeed, the video didn't air. Fortunately, it caught on online and now has over 17 million views.


At the time, Šimon and I thought it would be great to make a film about disabled people and the band Tap Tap. And the kind of film that people would really want to watch. So it was made much earlier and from the beginning we were trying to find what we called a "feel good" vibe. And it was a film that, even though it went through various escapades and took a few years to make, HBO and we thought it was more of a local film that would be of more interest to Czech audience because they know Tap Tap and we went to built it as a portrait of the band.

Still, the film somehow worked internationally, but it wasn't a film like When the War Comes, which would open the discussion and which would really travel. When the War Comes was in 50-60 festivals and won a number of awards. Two Roads was a much more modest film in that festival sense. We were more expecting it to be an audience film. And that was partly confirmed when we won the audience award at the IDFF Jihlava.

But then COVID-19 intervened, we postponed the premiere several times, and when it was released and the film went into theatrical distribution, all the theatres closed after three days. And most people didn't show up for the premiere anymore because everyone was afraid of COVID. But the reaction from HBO was positive. And even though they don't publish audience numbers, they said it was one of the most popular films they've produced.

So now you have to operate in a COVID mode.
We had to postpone a lot of shootings. We've got a Hans Blix movie in the works. We haven't seen Hans in almost a year. We couldn't get in, Hans was afraid to even meet us until he was vaccinated. Since he's 93, we were praying we'd finish the film.

The film Organism, which we are making with Jan Gebert, which we are filming in Slovakia, and focuses on the murder of a Slovak journalist who was exposing the connection between politics, business and corruption, there is also the problem of getting into prison because of the COVID measures. We had to also postpone this filming.

We had to interrupt the filming of Masterchef several times. A lot of money went into various testing and COVID measures. And we've had to take we had to take several of our colleagues straight to the hospital immediately from the set with severe symptoms.

It's obviously difficult. It's a lot of pressure on your psyche whether you get the project done. But on the other hand, everybody experiences that, and we're still in the entertainment business, so I'm not complaining. I wouldn't want to be a nurse in a hospital. That's really where we should look up to with admiration. We're just doing a job and it's a little more complicated.

It's interesting that you are covering the murder of a Slovak journalist. This is more in the documentary domain of Zuzana Piussi.
As far as I know, Zuzana wants to capture the case as a whole, and we want to focus on Miroslav Marček, a man who has served someone all his life - as a soldier, a tanker guard, and finally as a hitman. But we're in the early stages of development and I don't want to talk too much about the film yet.

COVID has also accelerated certain trends and changed the established way the audiovisual industry operates. As a producer, do you also perceive this situation that some changes have happened that are here to stay and you have to adapt to that?
I confess that it hasn't quite hit us like that yet, that I've had to think like that. Certainly, a lot of filmmakers and a lot of producers have been affected. But with respect to what we do, we make mainstream television and it's still going to be mainstream and it's still going to be television. And it's still going to go into the first or second broadcasting slot.

And then we do auteur projects, which were always Cinderella anyway. Very few people went to see them in theatres. That means that festivals have always been and will always be the first channel for us when it comes to our auteur projects.

Theatrical distribution will be more of an adjunct so that we can qualify for various awards. Rather local. Then, if the life of the film is extended by having it go on some online platform, that's only good for us. For me, even the fact that the film is going on DAFilms, which we get a few dollars a year from, and it's rather symbolic, is important because it gets the film out to the audience.

With documentaries and those extreme auteur statements, I don't think there's been any fundamental shift. It has certainly happened in the mainstream theatrical production. But maybe I'm wrong, too. And maybe we're just yet to experience the changes.

At the same time, the Czech Film Fund is currently being transformed into the Audiovisual Fund precisely because of the new needs.
But this is not a consequence of COVID. This has already started happening before, because there is pressure to support projects that are not going to the theaters. The argument is that it's necessary to respond to market developments, that quality projects can be made without necessarily going to the big screen afterwards.

I just hope that the creators of this transformation have thought this through and that they know what it will do. I'm always a little suspicious. But in this case, I'll be happy to be wrong.

Of course, but COVID has also accelerated the streamer situation, which is one of the circumstances to which the new Audiovisual Fund has to respond.
The COVID may have accelerated it, but the Audiovisual Fund would have been created even without COVID. But it's clear that if anyone "benefited" from COVID, it was the online streamers.

But maybe the transformation would not be so fast.
It's possible, I'm not disputing that. Maybe there was even more time to work on the whole change because some of the production stopped. And no one could go to the movies.

What is the current planned schedule for Greta Stocklassa's Blix project?
We would love to have a premiere next year. Whether in the first or the second half of the year, that depends on whether we still get to see Hans Blix and how we can shoot some situations with him. We are currently in communication with the distributor Syndicado Films, who has the idea to premiere the film at a big world festival, and we would like to do that as well. Then of course they would like to sell it to a strong streamer.

It's hard to say if this will pan out, but there it's clear that this isn't a film that should be heading primarily to theaters. Of course, it will head to the theatres in a limited release, but it's an intimate portrait.


And while we try to make it topical and refer to key moments that have shaped the current state and Europe, it's not a film with strong audience potential. I'm a realist about that. But that, to me, is more important. We believe that the film could be successful at the festival level, that's a priority for us, then we'd be happy to make a deal with a streamer. But anything beyond a successful festival life is a nice bonus for a film like this. Even if it's not financial.

Does that mean the film will have distribution in Canada, Sweden and the Czech Republic?
I think there will be limited distribution in the Czech Republic and Sweden. I don't think it would pay off - and this is just the reality of documentaries - to invest in expensive theatrical release. For me, festivals are important, because after all you want the film to be shown on the big screen, and festival distribution can bring in relatively large audiences.

But to think that hundreds of thousands of people will come to the cinema to see a documentary is naive. Then it's better for me if the film "lives" on some platform and reaches some audience even in a few years. So I guess nothing fundamental changes here, even with COVID.

Is it part of your production strategy to seek out and collaborate with emerging talents?
Definitely. We're definitely looking around to see who's doing interesting things. But first, we're having discussions together. We want to see if we're a good fit, if we feel similarly about the fundamental issues around us. We need to understand each other. And only then does it make sense to work together.

Just FAMU?
It's not just FAMU. Jan Gebert didn't go to film school. But we liked him as a person, we liked the way he thought about films. It's not like we were sitting around watching movies. Some people do that. I think it's good to give directors space before it's completely clear what they want to do in life. With Lun Sevnik, it wasn't like we were waiting for him in front of a screening room at FAMU either. Most of the time, it's a natural process.

His short film Stone Games made a buzz around his name.
Yeah, but we understood each other humanly, so it wasn't that we saw the film and wanted to work with it. We knew each other before. We met through Olmo Omerzu and we talked together. We sat down and then we saw Playing and we knew we wanted to continue working together. And he approached us himself after a while, so I guess he felt the same way. So the human level is important to us.

I think that's important in general, because the relationship between producer and director is not just technical. It is several years of living together where you have to completely understand each other in what you're doing and know that you have the same perspective on the thing you're doing.

Here it transpires how crucial is the right setup of producer and director and what success it can bring in the long run, as in the case of Olmo Omerzu and Jiří Konečný from endorfilm.
I think that it's a historical problem of the division of the role of producer and director. When this role was formed in our context, everything was decided by the director, whereas in standard market conditions it is rather the other way around.

It's more the producer who decides, because he's financially responsible for everything. I don't think that's ideal either. But you have to look for an equilibrium. For me, it's a team effort. And that's at all levels of filmmaking, and I try to carry that over into the TV stuff, where nobody really cares who's directing the thing. They just care if I deliver quality "content" and I take full responsibility for that.

A couple of times I've had discussions with a director and he's said "Look, I know exactly what I'm doing, just get me the money". And at that point I don't care because I know I don't want to be a service company for someone who thinks he's a genius.

And then I'm still going to be held accountable if that genius makes something not-so-genial. And unfortunately, in the Czech context, that's pretty strong. And a lot of directors don't realize that without a strong producer, they won't get anywhere. They'll just dream about what great things they could do.

So the position of the producer is unknown in the Czech context and thus underestimated. People often think that we are either cooking coffee somewhere because they confuse the position of producer with that of production manager, or that we are making sure that more money is not spent than it should be.

No one really addresses the fact that you are a vital part of the creative process of the film, that you shape the subject matter from the first steps. At least that's what we try to do. But maybe other producers do it differently.


In addition to documentary filmmaking, you also produce feature films. If I'm not mistaken, you are also behind the project Borders of Love.
That's actually quite an interesting case, because we have been developing the film with Tomasz Wiński for several years. We tried to shape it in different ways, to guide it. And this is exactly where we ran into the fact that we as producers couldn't get behind the vision that Tomáš had.

And Tomáš was very clear about how he wanted to do it, and we kept pushing him into something he doesn´t feel comfortable at. So we agreed to that he will approach other producers. He approached Jiří Konečný, transferred the film under Jiří and we stayed on as co-producers. The film is finished, it's waiting for a festival premiere and it's exactly the film Tomáš wanted to make. Otherwise he wouldn't have made it. And it's exactly the film we didn't want to make.

But we are also producing a fiction feature with Jan Gebert, where we are currently in the development phase. Europe was supported by the Czech Film Fund and Jan is now in Berlin on a Nipkow scholarship writing the screenplay.

The film´s protagonist is fascinated by a kind of semi-clandestine club, whose sessions are reminiscent of tribal rituals, in which half-naked members, especially students, put on masks according to ancient patterns and let loose their wild self. It is a parallel to the contemporary Europe. And a partially updated version of the American Fight Club.

We don't want to produce films that we can't stand behind. It's a long journey, a lot of energy, you basically don't make any money on it, so it has to make sense otherwise. We have to be able to stand up for what the film says about the world.
Does that mean PINK has its own brand?
It's individual. It's not as if we have written rules about what the project should be. What we focus on at PINK are contemporary issues that have a clear overlap with what's happening in society. And that's both Touch Me Not, When the War Comes, Two Roads, and the miniseries The Attachment Theory.

They all have some outreach towards what's going on around us and touch on themes that we think are crucial. I can't put it any other way. It's actually more of a subjective feeling, even though we try to name it. We have to know why we are telling it.

So PINK is a collective entity, where you are part of that organism?
I guess that's one way to describe it. And not everyone who approaches us is comfortable with that.

When a colleague has a problem with a project, do you get together and vote on whether to proceed?
There are three of us in the company discussing projects. Me, Alžběta Karásková and Karel Poupě. We complement each other. I focus mainly on the content and work outside the company, Alžběta runs the entire company, she has an overview of all projects, not just film projects, and Karel is the executive manager on individual projects.

And there are three of us because we understand each other. But that doesn't mean we agree on everything. And the moment when one of the three of us has a problem with something, it usually indicates that there really is a problem. And there is no need to vote. It is necessary to name the problem.

It is not the case that anyone could become part of the company. We were looking for another producer and we frequently encounter the fact that we can't find anyone precisely because we can agree on projects together, even if we have a discussion. But it's hard for someone new to join us. And we would really want that. So maybe we could "raise" someone new.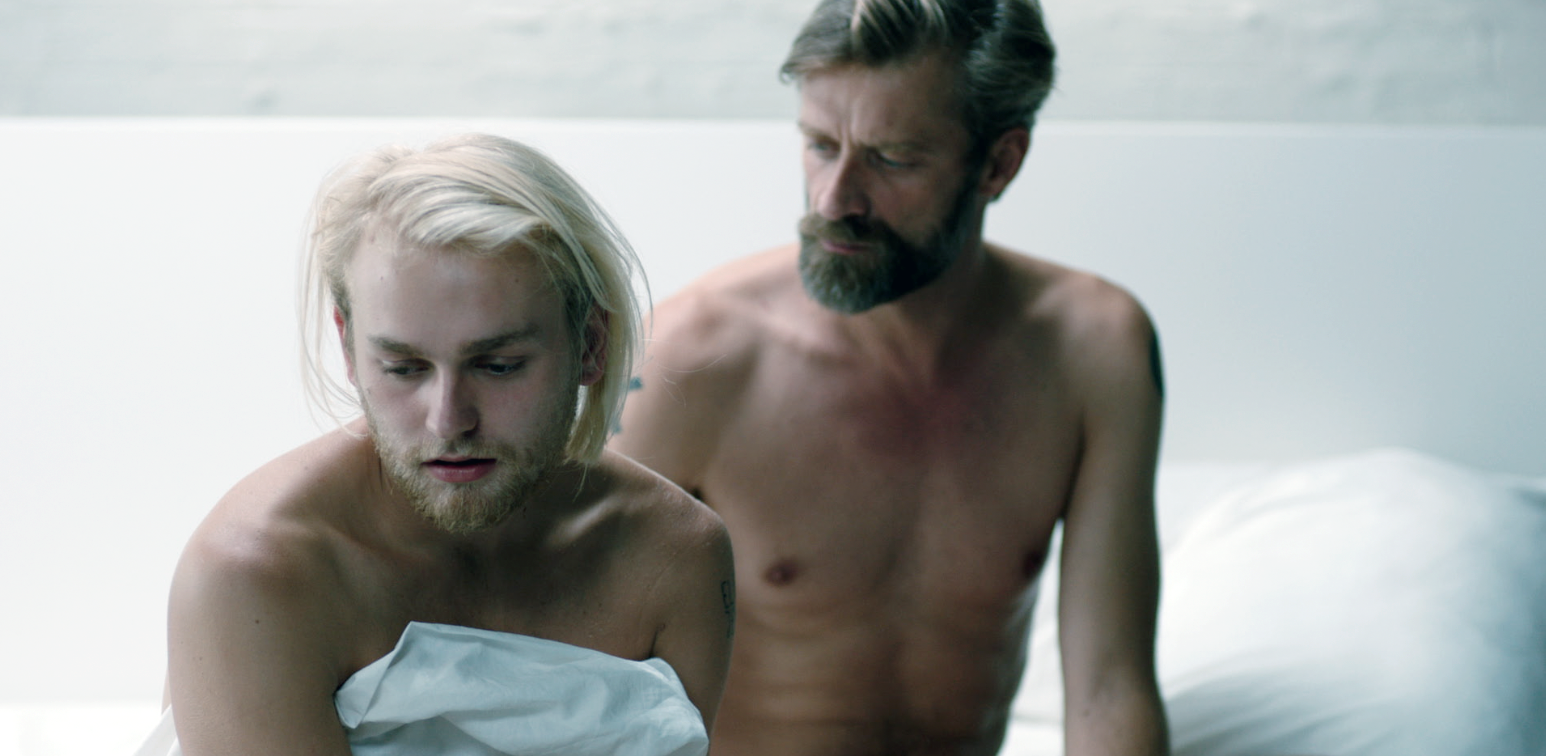 Are you working on any minorities too? You mentioned Adina Pintilie's project, Death and the Maiden.
This project is being developed for a long time, you got support from the Czech Film Fund there. We were the first to enter the development, but funding is always very difficult for such challenging projects. Today it's a Romanian-French-German-Czech co-production. And Adina is also very precise. Until she's satisfied, the film won't be made.

As a documentary filmmaker, what do you think about new media?
As a documentary filmmaker, I don't care much for them. We once tried to develop an interactive film, but soon abandoned it, not understanding the benefits of interactivity for storytelling. Somehow it just didn't click with us. Maybe it was the project.

But I do encounter new media in audiovisual exhibitions where we work with interactivity, immersive spaces, etc. Perhaps it belongs in the category of new media. So I understand new media in this context, but not so much in film storytelling.

Maybe it's already a generational problem, but also maybe it's a parallel with 3D movies. Suddenly everyone was talking about the end of a classic film. And now it's a fringe thing for a very specific area of storytelling.

You did a paper on Ulrich Seidl: Between Fiction and Reality. Did Seidl and his works have any formative influence on you?
I came to FAMU when I was thirty years old and I was completely untouched by film. I didn't know anything about film at all. And maybe that's why I got in. And when I started filming freshman year, my then workshop leader Martin Mareček said that my work reminded him a lot of Ulrich Seidl.

That's when I succumbed to Seidl for a while. I was fascinated by the fact that you could make films like that. I'd never seen anything like it before. I think I've hopefully come some way since then. It was an important period for me. It was also formative in some ways, but I wouldn't say Ulrich Seidl is my idol. He certainly isn't.

I was also getting at the fact that you, as a producer and director, are also between fiction and reality.
I'm not really into fiction without reality. And maybe that's what unites us most here at PINK. That we are interested in projects, how much they touch reality, how they relate to it, what they say about the world around us. Reality is very important to us.

Do you mean also reality in the sense of realism?
That's not what I mean. The world around us is terribly inspiring and there are a lot of very important things going on. And I feel that the fundamental things that surround us should be happening in film. And sometimes I just feel that a feature film is so far removed from reality and works with something that doesn't really rely on anything in reality. Or it's trivial, unimportant topics.

Also, you have two projects on the same subject, whereas with a documentary you run into some boundaries that you don't necessarily have with a fiction project.
Honestly, I would be a thousand times happier if a documentary series about the Kuřim case was made. The fiction series actually creates a lot of the problems we're dealing with now. And that's the problems that the people we're talking about and want to talk about are real characters and have been through something. And we don't want to hurt them in any way. We don't want to re-victimize them.

We have to constantly balance the ethical plane terribly. We can't just take them and start working with them as pawns, because they're not pawns. They're real people. And real people have had some misfortune happen to them. So we're much more constrained in some ways by the fact that it was real.

But you could still anonymize the characters and then distribute the fiction series outside the Czech context, where people know the case.
That's just an excuse. I can't imagine being able to cut myself off from making a series about real characters and saying "hey only viewers abroad will see this, so it doesn't matter how I treat these characters".

I don't think it's quite like that, I think my colleagues and I would have a hard time arguing that. And you know these people. We're meeting with one of these guys who's been hurt by their own mom, abused by their own mom because she was manipulated. This person has a concrete outline, it's not an imagination, it's a person.

And he's been through something, and of course we build a relationship with him. And you can't just walk away from that. And it's possible that we won't find a way to tell the story that's ethically acceptable and we may have to throw all the work away and not proceed. That can happen, too.

I understand, but you also won't run into the issue of anonymizing characters and having someone in the documentary not give you permission to process the story the way you envision it. For example, if someone from the band Tap Tap didn't give you permission that might jeopardize the whole concept.
Certainly. And I've had that disruption, too. In the beginning, the film was supposed to be about one of the protagonist's relationship with her dad, among other things, of course. But she very soon said she didn't want to talk about that subject and it almost meant the end of the film because at the time HBO wanted that subject. They wanted that story and they actually pushed for that story to be there.

And I couldn't get it. And I just had to accept that I was never going to get it. And I actually told myself I wasn't even going to push it anymore because I could see that it could hurt the person. So yes, it's limiting.

Does this happen to you often?
I think that's something that almost everyone experiences, especially with documentaries, that they imagine how it should be done and what should actually happen. And it happens differently. And sometimes, it actually turns out even better than you imagined. And that's the beauty of it.

But we all work with that ethical boundary in documentaries. And of course, we all have a different setup. But especially in translating real stories into fiction, it's a big problem. And it's just better if it's not even made.

And it's painful, it's crazy, it's also a lot of work that goes to waste. And that's what we're debating here. I may not be the one who's the most sensitive. That's what my partner is here for, who is much more sensitive to these situations and much more radical in that perspective.

The interview is part of a series of talks with European documentary filmmakers on the occasion of the 20th anniversary of the Institute of Documentary Film in Prague.

Listen to the True Story ep. 30 with director Jan Gebert about his film When the War Comes.
back to articles